Classes 5 days/week!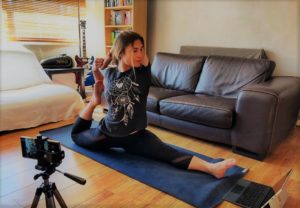 If you are away from me, we can stay in contact via Zoom: I am offering a full schedule of online classes.
If you are interested, please see the booking calendar below, or if you have any questions, please contact me by email (laura@ownyoga.com) for more information. If you are interested, but the time doesn't suit you, you could have access to a recorded class (please contact me).
TO BOOK your place, please pick the event of your choice, scroll to the bottom of the page and confirm by clicking the button "BOOK".
For the payment, you will receive an email (not an automatic reply) after your booking, with the process to follow.
THANK YOU for booking your class at least the day before (minimum 4 hours before the class please)
Fees:
Minimum £6 or €7 (+ donation for AERU).
The donation money will go to a charity for which I was a volunteer during my trip to South Africa. The charity is called AERU (African Elephants Research Unit) and conducts research to help elephants in captivity. Please have a look on their website: https://aeru.co.za/