FULL Schedule from September!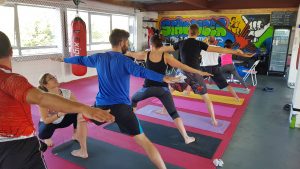 If you are in lockdown or away from me, we can stay in contact via Zoom: I am offering a full schedule of online classes.
Types of classes:
Yin Yoga
Yin Yoga is a passive, relaxing and challenging floor practice. The poses are held for a long period of time. It works on the deepest tissues of the body, especially the connective tissues, such as ligaments, joints, deep fascia. Yin Yoga has its origins in Chinese Medicine, and is designed to improve the flow of the qi (or chi), which runs through the meridians.
Yin Yoga can be practiced by everyone and can be easily adapted to every body.
40 minutes Dynamic Yoga Flow
Based on a Dynamic Vinyasa flow, this class is designed to wake up the whole body and the mind. Starting with soft and mindful movements the practice becomes more dynamic. The sequence is shorter than a "normal" Vinyasa class, and poses are held for a shorter time. This class is perfect if you don't have a lot of time for your yoga practice. It will give you your yoga shot for the day.
Vinyasa flow
In this class we emphasize the synchronisation between the movement and the breath. Each posture is connected to the next one through a transition and the breath, which gives the sensation of flow.
Each class is adapted to the level of the participants and many options are offered to make sure everyone enjoys their class.
Easy flow
This class is based on the Vinyasa flow, but we are moving slower, taking more time to explain the Asanas (poses), and resting more often. This practice is perfect for beginners or if you need a soft practice.
Yoga mix
Based on Vinyasa, this class includes some Budokon© Yoga, animal flow, mobility, movement exploration, and FUN. Expect to get out of your comfort zone (and off your mat). This class is a strong class and asks for previous experience with Vinyasa practice.
Yin/restorative
Based on a Yin practice, this class includes some restorative poses and relaxation. It's the perfect class to unwind and relax.

Fees:
£6 (€7) + donation for AERU. The donation money will go to a charity for which I was a volunteer during my trip to South Africa. The charity is called AERU (African Elephants Research Unit) and conducts research to help elephants in captivity. Please have a look on their website: https://aeru.co.za/
If you are interested in booking these classes, please see the booking calendar below, or if you have any questions, please contact me by email (laura@ownyoga.com) for more information. If you are interested, but the time doesn't suit you, please let me know. I will do more according to your suggestions.
TO BOOK your place, please pick the event of your choice, scroll to the bottom of the page and confirm by clicking the button "BOOK". For the payment, you will receive an email (not an automatic reply) after your booking,
THANK YOU for booking your class at least the day before (minimum 4 hours before the class please)