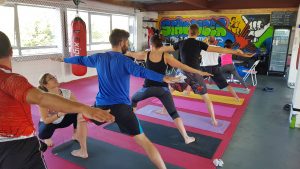 Due to the Coronavirus, most of studios and gym are closed, so to make sure you keep practicing, I am offering online classes.
Online class schedule:
Monday 11 am
Monday 6 pm (easy flow)
Wednesday 9 am
Thursday 7.30 am
Thursday 6.30/7 pm (TBC)
Friday 12.30 pm
Saturday 10 am (Stronger Fitness and Martial Art, please contact them for more information)
Fee: £5 + donation for AERU
The donation money will go to a charity for which I was a volunteer during my trip to South Africa. The charity is called AERU (African Elephants Research Unit) and conducts research to help elephants in captivity. Please have a look on their website: https://aeru.co.za/
If you are interested in booking these classes or have any questions, please contact me by email (laura@ownyoga.com) for more information. If you are interested, but the time doesn't suit you, please let me know. I will do more according to your suggestions.
Free 10-minute tension release session
To help people during this difficult time, especially NHS staff, Security people, supermarket staff, people working at home on improvised desk with kids around, people train at home, people getting mad, etc., in a nutshell everyone who needs to release tensions, I am offering a free 10-minute back, shoulders and neck tension release session from Tuesday to Friday at 6 pm on Livestream Instagram.
No need to do or even like Yoga, it's just about give 10 minutes to yourself.