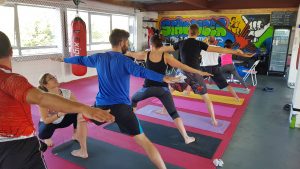 Despite the fact that most of studios and gym are open now, I am still offering online classes.
Online class schedule (GMT):
Monday 7 am (40 minutes Yoga)
Monday 11 am
Monday 6 pm (Yin yoga)
Tuesday 6.40 am

(40 minutes Yoga)

Tuesday 7.30 am
Wednesday 9 am
Wednesday 6.30 pm (easy flow)
Thursday 6.40 am (40 minutes Yoga)
Thursday 7.30 am
Thursday 6.30 pm

(easy flow)

Friday 9.30 am (Yin yoga)
Friday 12.30 pm (Yoga Mix: Vinyasa, Budokon, animal flow, mobility, movement exploration, and FUN)
Saturday 10 am or at the gym (Stronger Fitness and Martial Art, please contact them for more information)
Fee: £5 + donation for AERU
The donation money will go to a charity for which I was a volunteer during my trip to South Africa. The charity is called AERU (African Elephants Research Unit) and conducts research to help elephants in captivity. Please have a look on their website: https://aeru.co.za/
If you are interested in booking these classes, please see the booking calendar below, or if you have any questions, please contact me by email (laura@ownyoga.com) for more information. If you are interested, but the time doesn't suit you, please let me know. I will do more according to your suggestions.
TO BOOK your place, please pick the event of your choice, scroll to the bottom of the page and confirm by clicking the button "BOOK". For the payment, you will receive an email (not an automatic reply) after your booking,
WARNING: From 6th to 17th August, the schedule will change day by day. So make sure to check regularly the schedule.