Unfortunately and with a broken heart, due to the Covid-19 situation, all events and workshops are either postponed or cancelled.
Apologies for any inconvenience
Half day Yoga Retreat
Like last year, Alix (https://alixyoga.com/), Alva (https://www.alvayoga.com/) and I are teaming up to offer a half day Yoga retreat, which will include Dharma Yoga, Yin Yoga and Kirtan.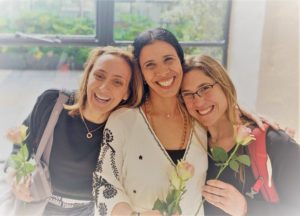 Dharma Yoga is a graceful and challenging practice, consisting of a series of stretching, balancing, back-bending, twisting and inverted postures. The practice starts with a Vinyasa warm-up followed by more stationary poses that we work on or hold for a longer period of time. Dharma Yoga is famous for including variations of poses as well as transitions that will challenge you if you choose to practice them. Alix will lead you into some of those more adventurous asanas.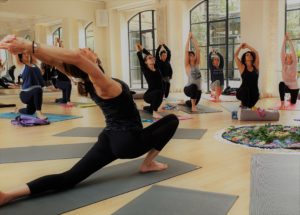 After the uplifting Dharma practice, I will teach you a Yin Yoga sequence allowing you to slow down, challenging your body and mind stillness, working with gravity. I will offer a series of passive floor poses held for 5 minutes or more…, which will give you space to let go, be grounded and surrender, which will guide you deeply into the pose to work on your fascia, your deep and connective tissue.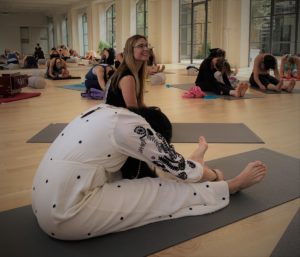 Alva will then invite you to join in a Kirtan, using your voice to explore how sound takes you deeper into a meditative state. Kirtan is part of Nada Yoga, the Yoga of sound. You will be encouraged to surf your onward surrounding sound waves vibrations. This will lift the energy up and then you will be encouraged to offer your favourite asanas or free movement as part of the celebration.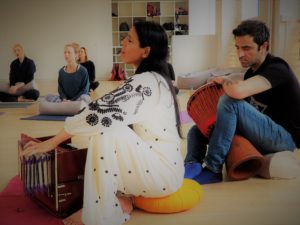 All welcome!
There will be a most wonderful friendly space to try some more adventurous poses along with very grounding ones. You will be invited throughout the workshop to drop everything and simply be, meditate through sound vibrations. Expect (without expectations) to deepen your practice, relax, let go, stretch, chant, share, laugh, and more…
Contribution: £45 (Early birds discount £40 if you book before 29th February with the code EARLYBIRD).
There is a very limited number of places available. So to save you place or booked your place please contact me at laura@ownyoga.com or following this link: https://app.acuityscheduling.com/schedule.php?owner=17471449
When: CANCELLED